2016
11.07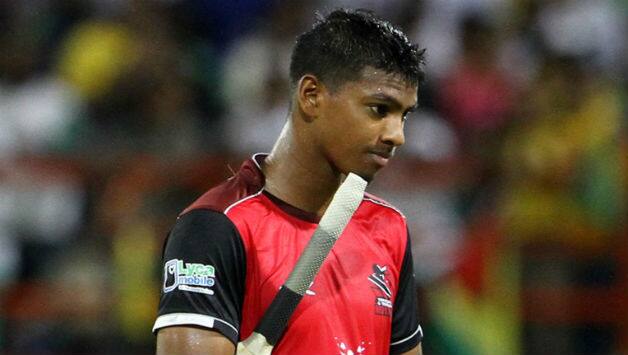 WEST INDIES wicketkeeper/ batsman Nicholas Pooran will not be allowed to play for the Leeward Islands Hurricanes in the upcoming West Indies Cricket Board (WICB) Regional Professional Four-Day tournament after signing with the Khulna Titans in the Bangladesh Premier League (BPL), which bowled off yesterday. The former West Indies Under-19 player will also be ineligible for the Regional Super50 tournament scheduled for early next year.
Chief Executive Officer (CEO) of the WICB Michael Muirhead explained that there are consequences if a player commits himself to a regional team and backs out of his agreement.
Muirhead stated, "Nicholas Pooran has decided not to play for the franchise (Leeward Islands Hurricanes) that he was selected for. All persons who are entering the (WICB Four-Day) draft, sign that they will make themselves available and commit themselves to playing for whoever they are drafted by. If you fail to honour that then there are consequences.
The consequences actually is that he won't be able, for a specific period, play for WICB sponsored tournaments." The Regional Four- Day tournament bowls off on Friday.
Muirhead said Pooran can still be selected for West Indies during the period that he is effectively banned but choosing not to play in the domestic tournaments may hinder his chances. The WICB currently has a policy where one must compete in the regional competitions to be considered by the regional team for that same format.
"It does not mean he cannot play in a West Indies team if he is selected but it might lessen his chances of selection by not playing in our tournaments, but it still means that he could be selected if the selectors see it fit to choose him." The WICB CEO said that Pooran is not being victimised as all players will face the same consequences if they agree to play in the Four-Day tournament then opt out.
Interestingly, fellow TT cricketer Rayad Emrit will be allowed to play in the Four-Day tournament for the TT Red Force when he returns from the Bangladesh Premier League where he will turnout for the Barissa Bulls today.
CEO of the TT Cricket Board Suruj Ragoonath elaborated on the arrangement made, stating that the TT Red Force players are permitted to play in one tournament outside the Four-Day WICB Professional League. Ragoonath explained, "we have a clause in the contract with them (the players) where they are allowed to go and play in one tournament outside of our professional league in the Caribbean. When they left, their contract would have been stopped to give them the opportunity to go away and play but when they return we reinstate their contract.
So for the period of their absence, the contract is suspended; that is a mutual agreement we have with the players.
"So when he (Emrit) returns, he is eligible for TT and his contract resumes upon his return and it does not matter who the player is." Questions are being raised whether Pooran is being punished for a comment he allegedly made concerning the West Indies T20 team on their tour of United Arab Emirates recently where the regional team faced Pakistan. In an interview criticising the WICB for their firing of Phil Simmons on the eve of their Pakistan tour, Dwayne Bravo stated that Pooran told him his windball team in Trinidad was more organised than the West Indies team. The WICB has vehemently refuted the notion that the team was in turmoil or unprepared following their coach's sacking.
Related News